Management summary of an archaeological survey of the Longpoint Phase I Development Tract, Charleston County, South Carolina
Keywords
Archaeological surveying--South Carolina--Charleston County
,
Charleston County (S.C.)--Antiquities
Abstract
This summary is intended to provide a synopsis of the preliminary archival research and the archaeological survey of the Longpoint Phase I Development Tract. It gives a history of the property as well as geographical and geological information.
Collections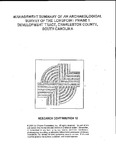 Rights
Copyright 2001. For more information contact, South Carolina State Library, 1500 Senate Street, Columbia, South Carolina 29201.
Digital Collection
South Carolina State Document was either saved from a document available publicly online in PDF format or converted to PDF using Adobe Acrobat DC.