La Hepatitis C y el encarcelamiento
Authors
South Carolina Department of Health and Environmental Control
Keywords
Hepatitis C
,
Prisoners--Diseases
Abstract
Hepatitis C can be a health problem for people who have been incarcerated. Adults in correctional facilities are at risk for Hepatitis C because many people in jails or prisons already have Hepatitis C. This sheet, printed in Spanish, answers the questions: what is hepatitis, what is Hepatitis C, how is Hepatitis C spread, can Hepatitis C be prevented, how can you tell if someone has Hepatitis C, what are the symptoms of Hepatitis C, what happens if a person has Hepatitis C, can Hepatitis C be treated and what can people infected with Hepatitis C do to take care of their liver.
Collections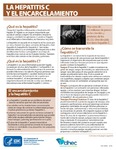 Publisher
South Carolina State Library
Digital Collection
South Carolina State Documents Depository
Rights
Copyright status undetermined. For more information contact, South Carolina State Library, 1500 Senate Street, Columbia, South Carolina 29201.
Digital Collection
This South Carolina State Document was either saved from a document available publicly online in PDF format or converted to PDF using Adobe Acrobat DC.