Authors
South Carolina Department of Parks, Recreation and Tourism
South Carolina. Division of State Parks
South Carolina. Division of State Parks and Recreation
Keywords
Parks--South Carolina--Periodicals
,
South Carolina Department of Parks, Recreation and Tourism--Periodicals
Abstract
Park Lites was the official publication of the Division of State Parks and Recreation that ran from approximately 1971-1994.
Collections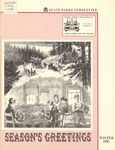 Rights
Copyright status undetermined. For more information contact, South Carolina State Library, 1500 Senate Street, Columbia, South Carolina 29201.
Digital Collection
300ppi, Bookeye 3 scanner with OPUS FreeFlow software, Archival Master file is a multi-image TIFF; online version is a PDF/A-1b. Color depth varies by collection: 24-bit color.