Authors
South Carolina Department of Natural Resources, Dog Deer Hunting Stakeholders Working Group
Keywords
Deer hunting--South Carolina
,
Hunting dogs--South Carolina
Description
The use of dogs for hunting deer is a traditional form of hunting in the 28 county coastal plain of South Carolina. The activity is allowed by state law without restrictions. However, in the 18 county Piedmont dog hunting is prohibited. This prohibition stems from the general absence of deer in that region during the early twentieth century and the fact that once deer were present, there was no tradition of dog hunting in the Piedmont. The following report describes the process, outcomes, and recommendations of the SCDNR Dog Deer Stakeholders Working Group.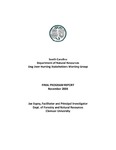 Publisher
South Carolina State Library
Digital Collection
South Carolina State Documents Depository
Rights
Copyright status undetermined. For more information contact, South Carolina State Library, 1500 Senate Street, Columbia, South Carolina 29201.
Digital Collection
This South Carolina State Document was either saved from a document available publicly online in PDF format or converted to PDF using Adobe Acrobat X Professional.