Limited review of the John De La Howe School operations and 2017 feasibility report
Authors
South Carolina Office of Inspector General
Keywords
John de la Howe School--Auditing
Abstract
On 5/15/2018, the State Inspector General initiated a limited onsite review of John De La Howe School (JDLHS) operations. The onsite review included interviews with the former interim superintendent and current JDLHS staff. The scope of this limited review included: Review of JDLHS processes and finances for fiscal year (FY) 2016 through 5/21/2018 ; Review of the State Auditor's most recent audit report for JDLHS, year-ended 6/30/2016 ; Review of JDLHS Foundation funds and structural organization ; Discussion with the Department of Social Services staff on the status of the school as a licensed "Child Caring Institution" and the Wilderness Program ; Discussion with the Student-Centered Education Consulting Group, LLC ; Discussion with the new JDLHS Board of Trustees chair and the new interim superintendent.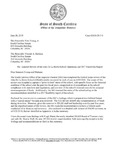 Publisher
South Carolina State Library
Digital Collection
South Carolina State Documents Depository
Rights
Copyright status undetermined. For more information contact, South Carolina State Library, 1500 Senate Street, Columbia, South Carolina 29201.
Digital Collection
This South Carolina State Document was either saved from a document available publicly online in PDF format or converted to PDF using Adobe Acrobat DC.