Regulation 61-107.5 swm: collection, temporary storage and transportation of municipal solid waste
Authors
South Carolina Department of Health and Environmental Control
Keywords
Refuse collection vehicles--South Carolina
,
Refuse disposal facilities--South Carolina
Abstract
This regulation is to establish minimum standards for the collection, temporary storage, and transportation of solid waste prior to processing, disposal, etc. of that waste. This regulation applies to any person who collects, temporarily stores, and/or transports municipal solid waste. Recovered materials are not subject to the requirements of this regulation.
Collections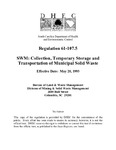 Rights
Copyright status determined to be in the public domain on April 27, 2020 by United States Supreme Court ruling (Georgia et al., Petitioners v. Public.Resource.Org, Inc. : 590 U.S.__(2020))
Digital Collection
This South Carolina State Document was either saved from a document available publicly online in PDF format or converted to PDF using Adobe Acrobat DC.