South Carolina Horseshoe Crab Fishery and Management Program compliance report for the year 2011
Authors
South Carolina Marine Resources Division
Keywords
South Carolina Horseshoe Crab Fishery and Management Program
,
Limulus polyphemus--South Carolina
,
Crab fisheries--South Carolina
Abstract
South Carolina's management program to conserve and protect horseshoe crabs began in the late 1980s. The South Carolina Department of Natural Resource's Marine Resources Division issues permits which are required to collect or possess even parts for commercial, educational, and private purposes. This gives a summary of prosoma width, weight and sex data recorded from subsamples of horseshoe crabs delivered to Charles River Lab in Charleston, SC between April and June 2011.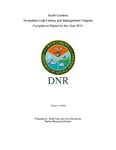 Publisher
South Carolina State Library
Digital Collection
South Carolina State Documents Depository
Rights
Copyright status determined to be in the public domain on April 27, 2020 by United States Supreme Court ruling (Georgia et al., Petitioners v. Public.Resource.Org, Inc. : 590 U.S.__(2020))
Digital Collection
This South Carolina State Document was either saved from a document available publicly online in PDF format or converted to PDF using Adobe Acrobat DC.