South Carolina aquatic invasive species management plan
Authors
South Carolina Department of Natural Resources
South Carolina Aquatic Invasive Species Task Force
Keywords
Nonindigenous aquatic pests--Control--South Carolina
,
Pest introduction--Prevention--South Carolina
,
Biological invasions--South Carolina--Prevention
,
Aquatic resources--South Carolina--Management
,
Aquatic weeds--Environmental aspects--South Carolina
,
Aquatic pests--Environmental aspects--South Carolina
Description
It is well-documented and acknowledged that non-native aquatic invasive species cause serious ecological and economic harm to water resources in many regions of the country. The primary purpose of the South Carolina Aquatic Invasive Species Management Plan is to provide guidelines for the coordinated management of aquatic invasive species in order to minimize their ecological and economic impacts to the state's marine and freshwater environments. The plan identifies current and potential aquatic invasive species problems and threats to the state and recommends specific actions that could prevent additional aquatic invasive species introductions. It also allows for rapid and effective response to problems when they arise.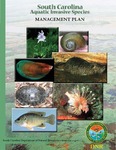 Publisher
South Carolina State Library
Digital Collection
South Carolina State Documents Depository
Rights
Copyright status undetermined. For more information contact, South Carolina State Library, 1500 Senate Street, Columbia, South Carolina 29201.
Digital Collection
This South Carolina State Document was either saved from a document available publicly online in PDF format or converted to PDF using Adobe Acrobat X Professional.