Financial viability of Penaeus Setiferus versus Penaeus Vannamei with continuous live harvesting and one final harvest strategies in South Carolina
Keywords
Shrimp culture--South Carolina--Finance
Description
It is anticipated that prospective aquaculturists, investors, and perhaps lending institutions and policy makers will desire information on the financial feasibility of producing indigenous Penaeus setiferus versus specific pathogen free Penaeus vannamei. This report was undertaken to provide an accurate and objective picture of the profit or loss from farming these species. In addition, an evaluation is made of the effects of a continuous live harvesting strategy versus a single final harvest strategy on the profitability of the two species.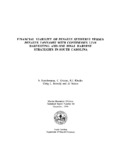 Publisher
South Carolina State Library
Digital Collection
South Carolina State Documents Depository
Rights
Copyright status undetermined. For more information contact, South Carolina State Library, 1500 Senate Street, Columbia, South Carolina 29201.
Digital Collection
This South Carolina State Document was either saved from a document available publicly online in PDF format or converted to PDF using Adobe Acrobat X Professional.