Authors
South Carolina State Human Affairs Commission
South Carolina State Human Affairs Commission. Division of Technical Services
Keywords
Discrimination in employment--United States
,
Affirmative action programs--Law and legislation--South Carolina
Abstract
This guidebook has been prepared by the South Carolina State Human Affairs commission to provide a foundation on which an effective affirmative action program can be developed. In the following pages, Part I deals with the background of executive, legislative and judicial mandates for affirmative action. In Part II, the essential components of affirmative action are presented. Part III consists of a number of appendices, which are included to further explain the laws and procedures related to affirmative action.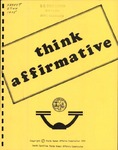 Publisher
South Carolina State Library
Digital Collection
South Carolina State Documents Depository
Rights
Copyright status determined to be in the public domain on April 27, 2020 by United States Supreme Court ruling (Georgia et al., Petitioners v. Public.Resource.Org, Inc. : 590 U.S.__(2020))
Digital Collection
300ppi, 24-bit color, Bookeye 3 scanner with OPUS FreeFlow software, Archival Master file is a multi-image TIFF; online version is a PDF/A-1b.