A Review of the Professional and Occupational Licensing Division at the Department of Labor, Licensing and Regulation : follow-up report
Authors
South Carolina Legislative Audit Council
Keywords
Legislative auditing--South Carolina
,
South Carolina Division of Professional and Occupational Licensing--Auditing
Abstract
This is a follow-up of the 2011 audit, A Review of the Professional and Occupational Licensing Division at the Department of Labor, Licensing and Regulation. The report focused on the operations of the professional and occupational licensing division and the financial status of the boards in the division. The division included 40 separate professional and occupational licensing boards. The Department of Labor, Licensing and Regulation is responsible for the administrative functions of the boards, while the boards' responsibilities include setting the criteria for licensure and disciplining licensees. It was found that LLR had not effectively monitored a contract to purchase a licensing management system and was not utilizing the capabilities of a system for broadcasting and recording board meetings. Board administrators should approve direct expenditures charged to their boards. The boards should review their fee structures to determine if their licensing fees can be adjusted and conduct audits of licensees' continuing education. LLR should also update the investigative database to ensure the information is accurate.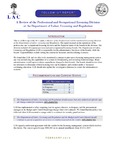 Publisher
South Carolina State Library
Digital Collection
South Carolina State Documents Depository
Rights
Copyright status undetermined. For more information contact, South Carolina State Library, 1500 Senate Street, Columbia, South Carolina 29201.
Digital Collection
This South Carolina State Document was either saved from a document available publicly online in PDF format or converted to PDF using Adobe Acrobat X Professional.