The South Carolina Recertification Program
Authors
Clemson University, Cooperative Extension Service
Keywords
Pesticides--South Carolina
,
Pesticides--Application
Abstract
This information sheet contains information on PIP-2, the South Carolina Recertification Program. Originally published in December 1994, revised January 2005.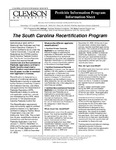 Rights
Copyright status determined to be in the public domain on April 27, 2020 by United States Supreme Court ruling (Georgia et al., Petitioners v. Public.Resource.Org, Inc. : 590 U.S.__(2020))
Digital Collection
This South Carolina State Document was either saved from a document available publicly online in PDF format or converted to PDF using Adobe Acrobat DC.