Report on historical funding of South Carolina institutions of higher education
Authors
South Carolina Commission on Higher Education
Keywords
Education, Higher--South Carolina--Finance--History
Abstract
With a few exceptions, since 1896 the state of South Carolina has provided lower levels of financial support to public institutions of higher education than other states, both regionally and nationally. While South Carolina went from spending the least to the most on higher education by the mid-1970s, it has fallen back toward the middle among southern states although it still remains above regional and national averages. Longitudinal studies such as this provide an opportunity to look for patterns in the data and historical record, and to assess the impact of decisions made many decades ago on contemporary conditions and circumstance.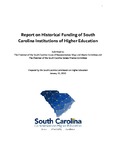 Publisher
South Carolina State Library
Digital Collection
South Carolina State Documents Depository
Rights
Copyright status determined to be in the public domain on April 27, 2020 by United States Supreme Court ruling (Georgia et al., Petitioners v. Public.Resource.Org, Inc. : 590 U.S.__(2020))
Digital Collection
This South Carolina State Document was either saved from a document available publicly online in PDF format or converted to PDF using Adobe Acrobat DC.