South Carolina Wildlife, Winter 1962
Authors
South Carolina Wildlife Resources Department
Keywords
Fishing--South Carolina--Periodicals
,
Hunting--South Carolina--Periodicals
,
Wildlife conservation--South Carolina--Periodicals
,
Dirleton Plantation (Georgetown County, S.C.)
,
South Carolina Wildlife Resources Commission
,
Ducks
,
Game and game-birds
,
Squirrel
,
Waterfowl
,
Deer
,
Bundrick, Lonnie C.
,
Deloach, Murray
,
Burch, John Thomas
,
Blackbirds
,
Firearms
,
Clapper rail
,
Tularemia
Abstract
The South Carolina Wildlife Magazine, published by the Department of Natural Resources, is dedicated to the conservation, protection and restoration of our state's wildlife and natural resources, and to the education of our people to the value of these resources. It includes conservation success stories, heartwarming reflections, humorous tales, intriguing field notes, delectable recipes and awe-inspiring outdoor adventures. In this issue: Historic Plantation Donated to State by T. G. Samworth ; Search for New Game Birds is Global ; Squirrel is Much Under-rated Game Animal ; Causes of Deer Dieoffs Under Study ; Law Enforcement Chief Bundrick Dies ; Damage and Danger form Black Bird Flocks ; Amateur Carpenter can Build Gun Cabinet ; Not Much is Known of Marsh Hen Habits.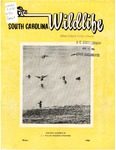 Rights
Copyright © South Carolina Wildlife. For more information contact the South Carolina State Library. www.statelibrary.sc.gov.
Digital Collection
300ppi, Epson Expression 12000xl flatbed scanner with Adobe Acrobat DC Standard software, Archival Master file is a multi-image TIFF; online version is a PDF/A-1b, 24-bit color.