South Carolina Wildlife, November-December 1990
Authors
Conservation, Education, and Communications Division, South Carolina Wildlife and Marine Resources Department
Keywords
South Carolina Department of Natural Resources
,
Fishing--South Carolina--Periodicals
,
Hunting--South Carolina--Periodicals
,
Wildlife conservation--South Carolina--Periodicals
,
Oystercatchers
,
Rifles
,
Jarrett, Kenny
,
Jarrett Rifles, Inc.
,
White-tailed deer
,
Beavers
,
Waterfowl
,
Pond animals
,
Saltwater fishing
,
Fish populations
,
Winter
,
Hunting dogs
,
Croft State Park (S.C.)
Abstract
The South Carolina Wildlife Magazines are published by the South Carolina Department of Natural Resources who are dedicated to educating citizens on the value, conservation, protection, and restoration of South Carolina's wildlife and natural resources. These magazines showcase the state's natural resources and outdoor recreation opportunities by including articles and images of conservation, reflections and tales, field notes, recipes, and more. In this issue: Biosphere ; Books ; Readers' Forum ; Natural History: American Oystercatcher ; Events ; Obsession With Accuracy ; Time To Change Tactics ; Keepers Of The Pond ; Boon Or Boondoggle? ; Come Winter ; Old Gyps ; Field Trip: Croft State Park ; Roundtable ; Index '90.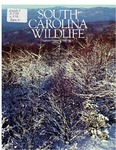 Rights
Copyright © South Carolina Wildlife. For more information contact the South Carolina State Library. www.statelibrary.sc.gov.
Digital Collection
300ppi, Epson Expression 12000xl flatbed scanner with Adobe Acrobat Pro 2020 Standard software, Archival Master file is a multi-image TIFF; online version is a PDF/A-1b, 24-bit color.