State air travel : a review of the use of state aircraft and the purchase of commercial airline tickets
Authors
South Carolina General Assembly. Legislative Audit Council
Keywords
Government travel--South Carolina--Auditing
,
Government aircraft--South Carolina--Auditing
,
Government purchasing--South Carolina--Auditing
,
Legislative auditing--South Carolina
Abstract
The President Pro Tempore of the South Carolina Senate requested that the Legislative Audit Council review the usage of state aircraft and the purchase of airline tickets. Our audit objectives were to: Review policies and procedures in place at the Division of Aeronautics (S.C. Budget and Control Board), the South Carolina Law Enforcement Division (SLED), and the S.C. Department of Natural Resources (DNR) regarding the use of state aircraft by state officials to determine if there are appropriate safeguards and protocols in place to ensure that aircraft are only used for official state business ; Determine if flight logs and required doccumentation have been completed, according to policies and state law, when state officials have used state-owned aircraft ; Determine if state officials are purchasing airline tickets in accordance with state law and provisos ; Follow-up on applicable recommendations regarding air travel previously made by the LAC to determine if they have been implemented.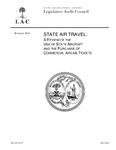 Publisher
South Carolina State Library
Digital Collection
South Carolina State Documents Depository
Rights
Copyright status determined to be in the public domain on April 27, 2020 by United States Supreme Court ruling (Georgia et al., Petitioners v. Public.Resource.Org, Inc. : 590 U.S.__(2020))
Digital Collection
This South Carolina State Document was either saved from a document available publicly online in PDF format or converted to PDF using Adobe Acrobat DC.