South Carolina Wildlife, July-August 1999
Authors
Conservation, Education, and Communications Division of the South Carolina Department of Natural Resources
Keywords
South Carolina Department of Natural Resources
,
Fishing--South Carolina--Periodicals
,
Hunting--South Carolina--Periodicals
,
Wildlife conservation--South Carolina--Periodicals
,
Docks--South Carolina
,
Striped bass--South Carolina
,
Islands--South Carolina
,
Murray, Lake (S.C.)
,
May, Otho D., Jr.
,
Beetles
,
Calendars
,
Outdoor recreation for children
,
Painted turtle
,
Table Rock State Park (S.C.)
Abstract
The South Carolina Wildlife Magazines are published by the South Carolina Department of Natural Resources who are dedicated to educating citizens on the value, conservation, protection, and restoration of South Carolina's wildlife and natural resources. These magazines showcase the state's natural resources and outdoor recreation opportunities by including articles and images of conservation, reflections and tales, field notes, recipes, and more. In this issue: Directions ; Events ; Forum ; Walking On Water ; Thermal Refuge ; Hilltop Islands ; Letters From Otho ; Beetle Mania ; Sportsman's Best Friend ; Hands On For Safety ; For Wildlife Watchers: Eastern River Cooter ; Field Trip: Table Rock State Park ; Roundtable.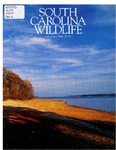 Rights
Copyright © South Carolina Wildlife. For more information contact the South Carolina State Library. www.statelibrary.sc.gov.
Digital Collection
300ppi, Epson Expression 12000xl flatbed scanner with Adobe Acrobat Pro 2020 Standard software, Archival Master file is a multi-image TIFF; online version is a PDF/A-1b, 24-bit color.