Employment outlook : growth rates vary for different allied health professions in South Carolina
Authors
South Carolina Area Health Education Consortium. Office for Healthcare Workforce Analysis and Planning
Keywords
Medical care--South Carolina--Statistics
Abstract
The greatest job growth, in terms of overall percentage change and the proportion of openings due to new job growth occurs among Radiation Therapists. The total percentage change for Dietitians and Nutritionists is small, and most of the future demand is expected to come from replacement needs. Among Speech-Language Pathologists, the group with the largest workforce of all those in the table, about half of the anticipated annual openings are due to new job growth and half to replacement needs. The same is true of Chiropractors. Radiation Therapists, on the other hand, will see most of their growth driven by new job creation.
Collections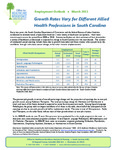 Rights
Copyright status determined to be in the public domain on April 27, 2020 by United States Supreme Court ruling (Georgia et al., Petitioners v. Public.Resource.Org, Inc. : 590 U.S.__(2020))
Digital Collection
This South Carolina State Document was either saved from a document available publicly online in PDF format or converted to PDF using Adobe Acrobat DC.