South Carolina aquatic plant management plan
Authors
South Carolina Department of Natural Resources
Keywords
South Carolina Department of Natural Resources
,
South Carolina Aquatic Plant Management Council
,
Aquatic plants--Control--South Carolina
Description
The South Carolina Department of Natural Resources in conjunction with the Aquatic Plant Management Council is responsible for the management of nuisance aquatic vegetation in public waters. Each year an Aquatic Plant Management Plan is developed which identifies aquatic weed problem areas, describes management objectives, prescribes management strategies, and determines funding needs and sources. Included is a summary of public comments, responses, and plan modifications to the draft Aquatic Plant Management Plan.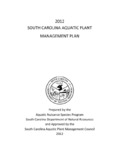 Publisher
South Carolina State Library
Digital Collection
South Carolina State Documents Depository
Rights
Copyright status undetermined. For more information contact, South Carolina State Library, 1500 Senate Street, Columbia, South Carolina 29201.
Digital Collection
This South Carolina State Document was either saved from a document available publicly online in PDF format or converted to PDF using Adobe Acrobat X Professional.