The status of equal employment opportunity in South Carolina state government : annual report to the General Assembly
Authors
South Carolina State Human Affairs Commission
Keywords
Discrimination in employment--South Carolina
,
Affirmative action programs--South Carolina--Statistics
,
Civil service--South Carolina--Minority employment--Statistics
Abstract
The Human Affairs Commission shall submit a report on the status of State Agencies' Affirmative Action Plans and Programs to the General Assembly by February 1st each year. This report shall contain the total number of persons employed in each job group, by race and sex, at the end of the preceding reporting period, a breakdown by race and sex of those hired or promoted from within the agency during the reporting period, and an indication of whether affirmative action goals were achieved.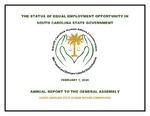 Publisher
South Carolina State Library
Digital Collection
South Carolina State Documents Depository
Rights
Copyright status undetermined. For more information contact, South Carolina State Library, 1500 Senate Street, Columbia, South Carolina 29201.
Digital Collection
South Carolina State Document was either saved from a document available publicly online in PDF format or converted to PDF using Adobe Acrobat DC.