make half your grains whole : 10 tips to help you eat whole grains
Authors
South Carolina Department of Health and Environmental Control
Keywords
Nutrition
,
Grain
,
Cooking (Cereals)
Abstract
Any food made from wheat, rice, oats, cornmeal, barley, or another cereal grain is a grain product. Bread, pasta, oatmeal, breakfast cereals, tortillas, and grits are examples. Grains are divided into two subgroups, whole grains and refined grains. Whole grains contain the entire grain kernel—the bran, germ, and endosperm. People who eat whole grains as part of a healthy diet have a reduced risk of some chronic diseases
Collections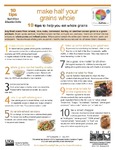 Publisher
South Carolina State Library
Digital Collection
South Carolina State Documents Depository
Rights
Copyright status undetermined. For more information contact, South Carolina State Library, 1500 Senate Street, Columbia, South Carolina 29201.
Digital Collection
This South Carolina State Document was either saved from a document available publicly online in PDF format or converted to PDF using Adobe Acrobat DC.