South Carolina Wildlife, May-June 1988
Authors
Conservation, Education, and Communications Division, South Carolina Wildlife and Marine Resources Department
Keywords
South Carolina Department of Natural Resources
,
Fishing--South Carolina--Periodicals
,
Hunting--South Carolina--Periodicals
,
Wildlife conservation--South Carolina--Periodicals
,
Fishing reels
,
Fleas
,
Ferns
,
Fish as food
,
Shellfish as food
,
Omega-3 fatty acids
,
Fish oils
,
Formulas, recipes, etc.
,
Santee Coastal Reserve (S.C.)
,
Lake Wateree (S.C.)
,
Fisheries
,
Young Outdoor Writers' Competition
,
Capers Island Heritage Preserve (S.C.)
Abstract
The South Carolina Wildlife Magazines are published by the South Carolina Department of Natural Resources who are dedicated to educating citizens on the value, conservation, protection, and restoration of South Carolina's wildlife and natural resources. These magazines showcase the state's natural resources and outdoor recreation opportunities by including articles and images of conservation, reflections and tales, field notes, recipes, and more. In this issue: Biosphere ; Books ; Readers' Forum ; Natural History: Flea ; Events ; High-tech Reels ; Green Lace ; Heart & Sole - Seafood For The Health Of It ; Challenge Of The Delta ; Wagons Ho! ; Wateree Update ; And The Winner Is ... ; Field Trip ; Roundtable.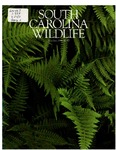 Rights
Copyright © South Carolina Wildlife. For more information contact the South Carolina State Library. www.statelibrary.sc.gov.
Digital Collection
300ppi, Epson Expression 12000xl flatbed scanner with Adobe Acrobat Pro 2020 Standard software, Archival Master file is a multi-image TIFF; online version is a PDF/A-1b, 24-bit color.