Sale of property from Samuel Taylor to Calvin Spencer
Authors
Keywords
Spencer family
,
Spencer
,
Taylor, Samuel
,
Spencer, Colonel Calvin, 1753-1801
,
Chesterfield County (S.C.)
,
South Carolina--Chesterfield County
,
Real Estate--South Carolina
,
Slaves--South Carolina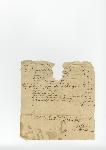 Publisher
Chesterfield County Library, Matheson Memorial Library
Rights
This photograph is part of the Chesterfield County Library System Digital Collections and is not to be reproduced or used without the written permission of the library. For more information, contact the library at 119 West Main Street, Chesterfield, SC 29709.
Digital Collection
400 dpi, 24-bit Truecolor depth, color, Epson Expression 10000 XL flatbed scanner with Adobe Acrobat X Standard software, Archival Master file is a TIFF; online version is PDF or JPEG.