Court surcharges & assessments retained distribution system surcharge/victims' services summary for the period ended 1/31/2020, municipal courts
Authors
South Carolina Office of the State Treasurer
Keywords
Surtax--South Carolina--Statistics
,
Victims of crimes--Services for--Taxation--South Carolina--Statistics
,
Municipal courts--Taxation--South Carolina--Statistics
Abstract
This document gives statistics on general sessions and family court surcharges for victims' services broken down by county and municipalities according to current month, fiscal year to date and total prior year.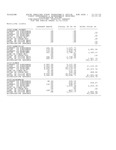 Rights
Copyright status undetermined. For more information contact, South Carolina State Library, 1500 Senate Street, Columbia, South Carolina 29201.
Digital Collection
South Carolina State Document was either saved from a document available publicly online in PDF format or converted to PDF using Adobe Acrobat DC.