Authors
South Carolina Prescription Drug Monitoring Program
South Carolina Department of Health and Environmental Control
Keywords
South Carolina Prescription Drug Monitoring Program
,
Drugs--Prescribing--South Carolina
,
Drug monitoring--South Carolina
Abstract
The South Carolina Prescription Monitoring Program (SC PMP) became fully operational on February 1, 2008. The purpose of the PMP is to improve the state's ability to identify and stop diversion of prescription drugs in an efficient and cost-effective manner that will not impede the appropriate medical utilization of licit controlled substances. This summary highlights trends in (1) prescription and patient volume and (2) prescriber and pharmacist utilization from 2015 to 2020.
Collections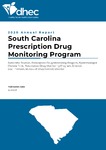 Publisher
South Carolina State Library
Digital Collection
South Carolina State Documents Depository
Rights
Copyright status determined to be in the public domain on April 27, 2020 by United States Supreme Court ruling (Georgia et al., Petitioners v. Public.Resource.Org, Inc. : 590 U.S.__(2020))
Digital Collection
South Carolina State Document was either saved from a document available publicly online in PDF format or converted to PDF using Adobe Acrobat DC.