Sandlapper: The Magazine of South Carolina, August 1969
Keywords
South Carolina--Periodical
,
South Carolina--History
,
Bowhunting
,
Deer hunting--South Carolina
,
South Carolina Wildlife Resources Department
,
Fort Marshall (Charleston, S.C.)
,
Pirates--Charleston (S.C.)
,
Charles Town, South Carolina
,
Bonnet, Stede, -1718
,
Blackbeard, -1718
,
North Carolina-South Carolina Cornerstone
,
Lancaster (S.C.)
,
Pendleton Farmers Society
,
Elms Plantation (Charleston, S.C.)
,
Izard, Ralph, 1742-1804
,
Scuba divers
,
South Carolina Dispensary
,
Liquor bottles--Collectors and collecting--South Carolina
,
Ben Tillman's Baby
,
Palmer, Jim, 1941-, painter
,
Wine and wine making--South Carolina
,
Smart, Jacob E., 1909-2006
,
Georgetown (S.C.)
Abstract
Sandlapper, the Magazine of South Carolina, was established in 1968 and educates readers about South Carolina. The included articles and photographs from South Carolina writers and photographers vibrantly showcase the state's beauty, citizens, culture, and history. This August 1969 edition is Volume 2, Number 8.
Collections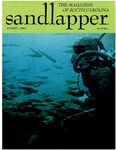 Rights
Copyright © Sandlapper Society, Inc. For more information contact the South Carolina State Library at: statelibrary.sc.gov
Digital Collection
300ppi, Epson Expression 12000xl flatbed scanner with Adobe Acrobat Pro 2020 Standard software, Archival Master file is a multi-image TIFF; online version is a PDF/A-1b, 24-bit color.