Cultural Resources Survey of the North Augusta Greenway, Aiken County, South Carolina
Authors
Southerland, Nicole 1978-
Keywords
Archaeological surveying--South Carolina--Aiken County
,
Aiken County (S.C.)--Antiquities
Abstract
This study reports on an intensive cultural resources survey of a 33 acre tract in the western portion of Aiken County, in the town of North Augusta, South Carolina. The work, conducted for Mr. Skip Grkovic of the City of North Augusta, is meant to assist the client in complying with Section 106 of the National Historic Preservation Act and the regulations codified in 36CFR800.
Collections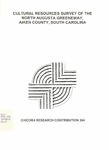 Rights
Copyright 2002 © Chicora Foundation, Inc. For more information contact the South Carolina State Library. statelibrary.sc.gov
Digital Collection
300ppi, 24-bit color, Bookeye 4 scanner with OPUS FreeFlow software, Archival Master file is a multi-image TIFF; online version is a PDF/A-1b.