Ethnobotanical analysis of selected samples from 16MO103, Morehouse County, Louisanna
Keywords
Ethnobotany--Louisanna--Morehouse Parish
,
Excavations (Archaeology)--Louisanna--Morehouse Parish
Abstract
During the first quarter of 1987 archaeologists with the firm of Brockington and Associates conducted test excavations at a Plaquemine phase site in Morehead County, Lousianna. The ethnobotanical remains from 16M0103 are not particularly revealing.
Collections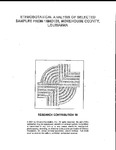 Rights
Copyright 2001. For more information contact, South Carolina State Library, 1500 Senate Street, Columbia, South Carolina 29201.
Digital Collection
South Carolina State Document was either saved from a document available publicly online in PDF format or converted to PDF using Adobe Acrobat DC.