State of the State Addresses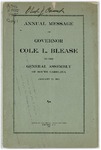 It has become tradition for the General Assembly to invite the Governor to address the Assembly at a joint session early in the calendar year. These addresses have been called "Annual Address to the General Assembly," "Address," "State of the State Address," or other names, but have been used to report the health of the state economically, to recognize events and individuals that impacted the state in the previous year, and to put forth goals (usually in a budget sense) for the coming year.
The addresses are now seen and heard live on radio and television and the text made available to the public in the media.
Recent Submissions
(

South Carolina State Library

,

2018-01-24

)

Transcript of annual speech given by Governor Henry McMaster to both houses of the state legislature in joint opening session to report on the condition of the state of South Carolina.

(

South Carolina State Library

,

2017-01-11

)

Transcript of annual speech given by Governor Nikki R. Haley to both houses of the state legislature in joint opening session to report on the condition of the state of South Carolina.

(

South Carolina State Library

,

2016-01-20

)

Transcript of annual speech given by Governor Nikki R. Haley to both houses of the state legislature in joint opening session to report on the condition of the state of South Carolina.

(

South Carolina State Library

,

2014

)

Transcript of annual speech given by Governor Nikki R. Haley to both houses of the state legislature in joint opening session to report on the condition of the state of South Carolina.

(

South Carolina State Library

,

2015-01-21

)

Transcript of annual speech given by Governor Nikki R. Haley to both houses of the state legislature in joint opening session to report on the condition of the state of South Carolina.

(

South Carolina State Library

,

2012-01-18

)

(

South Carolina State Library

,

2013-01-16

)

(

South Carolina State Library

,

1951-01-24

)

(

South Carolina State Library

,

2011-01-19

)

(

South Carolina State Library

,

1939-04-27

)

(

South Carolina State Library

,

1900-01-09

)

(

South Carolina State Library

,

1942-01-13

)

(

South Carolina State Library

,

1940-01-09

)

(

South Carolina State Library

,

1894-11-27

)

(

South Carolina State Library

,

1941-01-15

)

(

South Carolina State Library

,

1942-03-11

)